Master-Class: Intercultural Communication
Mit Hikaru Hie (Japan), Munir Rashid (Canada), Roland Trescher (Germany)
How applied improvisation fosters effective intercultural communication. Join us for a Play Day where we use fun and easy applied improv games to get out of our habitual thinking, recreate experienced and imagined intercultural scenarios, explore possible responses in playful ways, and practice using the methods of applied improv to increase our capacity to lead effectively in intercultural situations.
Play Day participants include Applied Improv Network (AIN) members:
Hikaru "LOU" Hie from Japan, bringing her active communication perspective and wealth of experience with applied improv around the world, working with both educational institutions and corporate clients.
Munir Rashid joining us from Canada, bringing reinvention consulting and business relationship facilitation experience, from working with corporate organizations and indigenous groups in North America and around the world.
Roland Trescher from Germany, bringing individuals, companies and institutions, innovative approaches for change and orientation processes, in topics such as communication, change, leadership, diversity, team building, and creativity.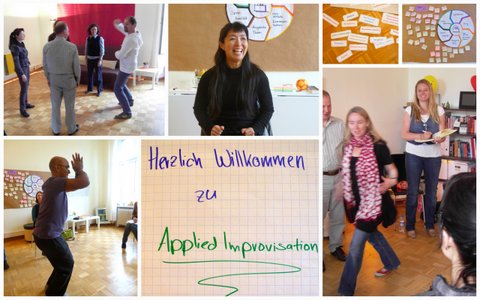 Host: Ella Amann, impro live! Akademie Berlin
Thursday, April 17th 2014, from 10.00 to 17.00
Emotional intelligence is now joining mental flexibility and physical dexterty as a key executiv and life skill. The improviser who is ready and willing to access a range of emotion gains a valuable edge.

Sie sind interessiert an einer Multiplikatorenschulung zum Thema interkulturelle Kommunikation?
Gerne entwickeln wir für Sie ein passendes Vortrags-, Seminar- oder Train-the-Trainer Konzept für Ihr Unternehmen oder Ihre Weiterbildungseinrichtung. Lassen Sie sich von der Vielfalt und den Möglichkeiten der Improvisationstechniken inspirieren und besuchen Sie eine unserer Popup!Lectures oder treten Sie gleich für ein Beratungsgespräch mit uns in Kontakt. Rufen Sie uns an oder nutzen Sie das Kontaktformular für eine Terminvereinbarung.
Ihre Ansprechpartnerin: Johanna Rzehak
Bürozeiten: Mo – Fr: 10:00 -14:00 Uhr
Tel: +49 (030) – 966 003 89
Die Durchführung unserer Weiterbildungen erfolgt in Kooperation mit: